Anil Gupta is a young technology enthusiast and entrepreneur. At 23, he co-founded Multidots – a WordPress and mobile app development agency in Ahmedabad. With more than 10 years of experience, this CEO is passionate about WordPress and IoT (Internet of Things).
WordCamps are all about meeting interesting people, listening to enlightening talks from WordPress Gurus and of course, countless cups of tea or coffee! ☺ A little pre-planning can help you get more out of your WordCamp experience:
PRE-CAMP
1. Set your goals
Think why you are attending a WordCamp. Is it to network, make a sale, learn new stuff, have fun or build partnerships? This will help you decide the course of action to take while attending the event.
2. Review the website
Check the website and see what topics are going to be covered by who and what kind of activities are planned. This will help you decide what sessions you must attend.
3. Be Proactive
Now that you have the agenda and a list of speakers, connect with them via Twitter. Twitter is an awesome platform for connecting with fellow attendees and speakers. Use the conference hashtag while tweeting and follow the speakers and other influential people. For eg:
So excited to attend #WCPune! Shout out if you'll be there too.
4. Videos are Cool
Plan to shoot a short 1-2 minutes video featuring you attending the event. You can even use professional help. Here are links to the videos my partner Aslam and I created.
5. Be an Early Bird
Register early for the camp since tickets are known to sell out quickly. Although, almost all WordCamps record their sessions, participating live is not the same as watching a video way after the event is over.
6. Consider Sponsoring
If you are a WordPress Development Agency like ours, consider sponsoring the event. It helps events like WordCamp run smoothly, plus, it gives your company sufficient exposure. You can choose the one that fits in your budget and purpose.
7. Keep Your Questions Ready
After reviewing the agenda and speakers, you might want to prepare a list of relevant questions for the sessions you attend. Your questions may help you get noticed too ☺.
However, if you ask questions without contributing to everyone's WordCamp experience, it may just backfire. Read this good article on how to ask questions that make a difference.
DURING THE CAMP
8. Sit Strategically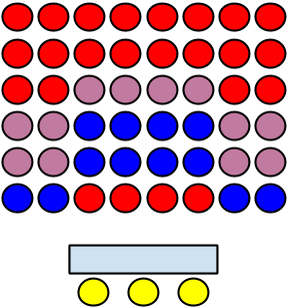 The location of your seat matters a lot. Most WordCamps, including the one at Pune, have a classroom setup for a majority of sessions.
The ideal position to sit is highlighted in blue. You might need to sit at the front though if there are too many or too few people.
Sitting strategically gets you focused and is extremely helpful in the QnA that follows after a session.
9. Ask & Answer Questions
Studies suggest that we tend to ask fewer questions as we get older. However, posing thoughtful question at WordCamp can lead to engaging discussions which can also make you appear well-informed. Depending on your goal, there are four types of questions you can ask:
10. Interact & Network
You can look up the list of attendees for people with similar roles as yours and get their twitter handles and websites. You'll find some that you'd definitely want to connect with. Remember, the individual conversations that you will have with people are often more enlightening than sessions.
11. Be Social
Use social media cleverly and judiciously while attending a WordCamp. Every WordCamp has an official hashtag (#WCPune) that's used across social networks. Use that to engage in live social media conversations with WordPress enthusiasts across the globe.
What should you tweet and share?
Key takeaways from sessions
You can also keep posting information while a session is going on
You can even post funny (but relevant) posts
Take pictures and tag people (in a decent way)
Comment on other people's post
Don't get so busy on social networks that you miss out on the sessions and all the fun that's going on right around you!
12. Don't Miss Keynote Sessions
Make sure to attend the keynote session when the camp begins. These give you a summary of what to expect at the WordCamp and the general direction that the community and the WordPress project is heading.
13. Take Notes
Before you take notes, decide if it is for a presentation, a blog post or just sharing insights with the team. This decides the approach and tools to use. Most sessions are recorded and broadcast later so you can just jot down ideas that may not come back to you while watching the video! If you get too busy taking notes, you may miss out on more important things.
14. Spread Out
If you are a group, spread out! Attend different sessions to gain maximum knowledge and insights. Later, you can share the wisdom amongst yourselves. While spreading out, make sure people with specific interests & expertise attend specific sessions. This will help you derive maximum advantage.
15. Looks Matter
Since WordCamps are community get-togethers, try not overdressing. Most speakers and organisers turn up in shorts or 3/4ths and simple t-shirts. Wear simple patterns, easy colors and comfortable fabric.
Remember, you must look approachable and feel comfortable because you need to spend almost 8 hours or more at the WordCamp.
16. Have Fun
A lot of the advice above won't hold if you focus purely on getting attention and making a name for yourself.
If you just relax and participate with the pure intention of having fun, you'd be surprised how many of the 15 points above will automatically get covered!
AFTER THE CAMP
17. Write a Blog Post
Prepare an engaging piece that lists down your key takeaways from the event. Instead of a boring blob of text, write something like 10 things I would've never known had I not attended WordCamp Pune 2015. Use contextual images to make your post compelling.
This blog post must be written immediately after the event when your thoughts are still fresh, and should be live the day after the event is over. This will help drive considerable traffic to your website. Here's an example of such a post.
18. Share Your Learnings
Arrange a session with your team members to discuss all you learnt, people you met and the overall experience. You can use this to identify what your goals should be from then on. You could also prepare a PPT or send a well designed email to all employees.
19. Say Thank You
Once you are back, send a thank you note to all those you connected with. Ideally it should be personalised depending on the conversations you had.
Here's an example.
Hello [INSERT NAME]

It was a pleasure meeting you at WordCamp 2015. Your ideas on WordPress were quite insightful and a great help to me. Thank you for making time to meet with me and for sharing your thoughts.

Sincerely,

[YOUR NAME]

20. Follow Up & Connect
If you are a WordPress Agency and have generated contacts and leads at WordCamp, you must follow up with them. A Harvard Business Review Study states that 71% of qualified leads are never followed up.
Connect over LinkedIn if you haven't met before. Send personalised invitations for getting in touch. Here's an example you can follow-up email.
Hi [INSERT NAME]

I enjoyed meeting you at WordCamp Pune 2015. I was really inspired by your approach towards engineering WordPress Websites and Applications.

You said you were looking to partner with a WordPress Development Agency to grow your business. I would like to take this conversation further with you again soon. How does your calendar look like in the coming week?

Cheers,

[YOUR NAME]

Conclusion
WordCamps are really exciting events. With a little preparation and strategy, you can make full use of the opportunities they present. Above all, don't forget to relax, enjoy the event and make friends ☺
Did I miss out on anything? Please share your comments below. Would be great to connect with you!
This post is a derivative of the original 20 things you should do to get the most out of a WordCamp that the author had published on LinkedIn. Some parts were modified for local and WordCamp Pune specific outlook by Saurabh Shukla, the lead organiser of WordCamp Pune with permission from the author.